SH-STUD 119 type, 124 type, 140 type
It is a system which is reinforced for function of sound blocking and fire resistance. It is highly effective sound blocking wall system mainly used as diaphragm between houses at residential space and between hotel guest rooms.
General description of SH-System 119 type
(1) Terms
Dry wall: It is wall made of dry wall like gypsum board after installing light steel structure stud and runner.
(2) Transportation and handling
① Transportation: Record type, name, dimension and manufacturing date on label and pack then transport.
② Handle it in consideration of manufacturer's instruction and requirement of user.
Product of SH-SYSTEM 119 type
(1) Material
KSD 3506 (melt galvanized steel plate)
KSD 3609 (steel material support member for construction)
(2) Dimension
(a) SH-stud
① Stud 119 type:119 mm (55.5 + 55+ 9.5) x 40mm x 0.8T
(b) Runner 119 type: 121 mm x 40 mm x 0.8T
Special feature of SH-SYSTEM 119 type
* It is light therefore it reduces weight of building.
* It is possible to work regardless of time.
* It is recognized not only for its fire resistance structure but also for its sound blocking function.
* It is economical.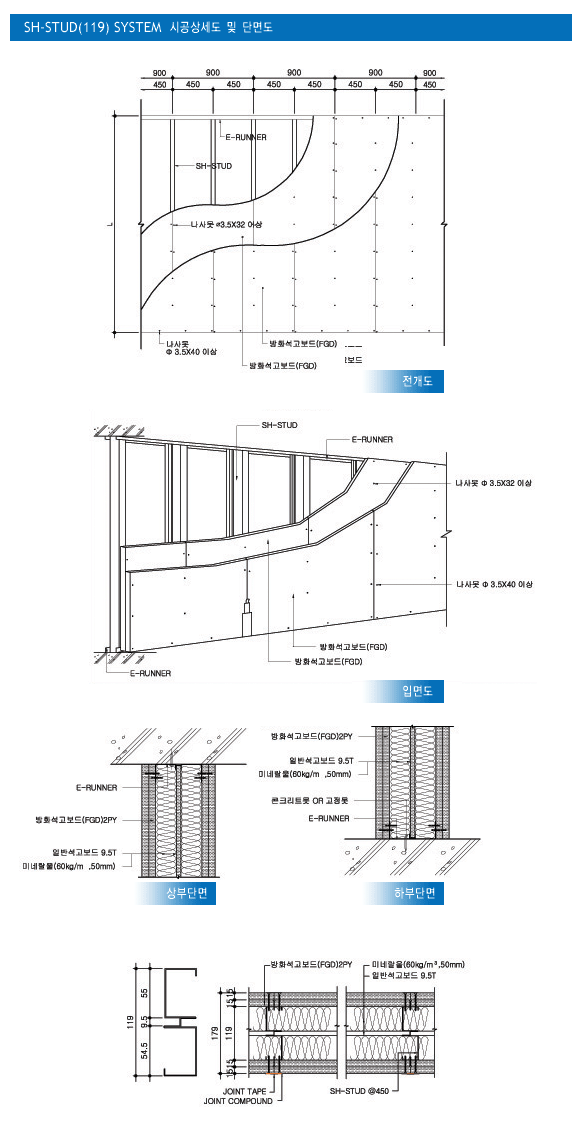 1) Preparation for work
Workers shall prepare for works through preparing tools required for works and approved drawings.
2) Marking
Marking shall be done according to approved shop drawing and with reference to finishing end line of wall (Caution required because office and external face is finished with steel cladding). Marking shall be done at upper and lower part according to thickness of Steel Cladding and board and runner. Also it is required to mark clearly the position of various openings. Required caution at this time is maintaining verticality upward and downward. It is commendable not to work on a very windy day.
3) Installation of frame
(1) Installation of runner
Along marked lines fix runner at upper part and lower part. At this time the method of fixing is using nail and fixing it within 600 mm. In particular at places where traffic of workers is heavy or machines are delivered in there is concern for bending so reinforcement is required.
(2) Installation of metal stud
① Metal stud which fits to dimension of runner shall be used and as for length cut it about 5 mm shorter than actual length and erect it. In particular there is fear of falling down due to wind or artificial power so fix it with pan head nail. But when it is work for buffer part then it is not fixed.
② Interval of stud is 450 mm basically and shaft wall where CH-stud is used shall be 600mm. When dimension of gypsum board is different then it shall be reinforced with reference to it.
③ Direction of wing of metal stud shall be same direction.
④ Part liable to water infiltration or wetness (toilet and ordinary room, AHU room and ordinary room) shall be installed with water-proofing ledge and work shall proceed.
⑤ When required at end of metal stud within 25 mm fix it with pan head wooden screw.
4) Installation of insulating materials
Insulating materials shall be cut bigger than actual interval of stud so that space for metal stud can be filled in completely and shall be made densely. There is fear of flowing down of insulating materials but it shall be fixed with pressure pin etc.
5) Attachment of gypsum board
(1) Attachment of gypsum board shall be made after checking width, thickness and length before attachment. Installation electric works shall be completed at first and if it is not done then attachment of gypsum board shall be stopped and it shall be notified to supervisor.
(2) Gypsum board can be attached in horizontal or vertical direction. Depending on circumstances and conditions proper method shall be chosen. When it is fire resistant structure then it shall be attached in vertical direction.
(3) Required caution at the time of attachment of gypsum board is as follows:
① Board shall be cut according to required dimension.
② All the joint shall be fixed with same interval to prevent tightly squeezing and no unreasonable force shall be applied to board.
③ At the same ply direction of application (length, width) shall be same.
④ Caution required not attach cut face next to tapered board.
⑤ In principle edge of the board stud shall be fixed.
⑥ At the time of installing metal trim to board edge decision shall be made as to installation or not before starting work.
⑦ When board is cut and applied then cut face shall be cleaned and applied.
6) Working with supplementary materials
(1) Corner bead work
Projected corner or external part of opening without gap shall be reinforced and protect it from external shock. By using staple or wooden screw fix it with an interval of 250 mm or so and shall finish it with joint compound.
(2) Metal trim work
Finishing of board used at window frame or threshold and its fringe shall be protected. By installing at the part in contact with ceiling and wall thus sealant work shall be expedited. Accordingly make sure to keep distance of about 10 mm from side and insert trim to fringe of the board. By means of wooden screw of 25 mm fix it at interval of 250 mm and finish it with joint compound.
7) Sealant works (caulking)
It is used for sound and moisture proofing of the office and the part of attachment with wall and concrete it is required to have caulking with sealant of about 10 x 10 mm. Caulking is done in 2 plies. 2 plies work is carried out after finishing 1 ply caulking. For 1 ply caulking it shall be done after applying runner and after finishing hardening then remaining 1 ply shall be applied.
8) Joint tape and joint compound work
(1) At the time of work proper temperature is 13∼21℃. If it is too cold or too hot there is fear of appearance of crack at the time of hardening therefore proper caution is required.
(2) Projected screw shall be pushed in again and parts where scar with 5 mm or above or trace of screw shall be filled with compound and main work shall be carried out after hardening for 24 hours.
(3) Tape shall be attached tightly and accurately and there shall be no puffing up or air layer.
(4) Width for secondary coating shall be 150 mm and width for third coating shall be 200 mm. Make sure there is no difference in width between compound and gypsum board. After lapse of 24 hours at least it shall be sand papered (#100).
(5) For joint tape fiber glass product shall be used and as for compound hardening type for shortening hour for drying shall be used.
(6) When there is no need for paint finishing it ends with base painting.